SED Clubs Rewarded for Increasing Membership
The Southeast Division increased Bowls USA membership by 4.6% in 2017 from 563 in 2016 to 589 in 2017. This increase is noteworthy since bowling membership has declined in other regions of the country. To encourage club growth, the national council has implemented an incentive program to increase membership by rewarding each club with $10 for each additional member in Bowls USA. Six clubs in the Southeast benefited from this program in 2017.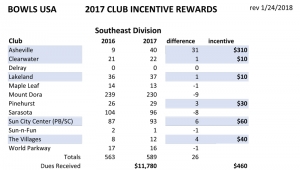 The President of Bowls USA has encouraged everyone to "Bring a friend – mentor a friend" in introducing new people to lawn bowling. Many rosters are already set for 2018 but there is still time to grow our sport. We can do it!